For many years, employers have had to consider the effect of employees' private social media use and its effect on work – whether that be from an employee complaining about their job on Facebook, making offensive comments on Twitter, or getting into online disputes which result in reports being made to their employer.
Now, with the rise of short form video, such as TikTok and YouTube Shorts, comes a rise in content created by employees whilst on the job.
Those on the platform might be familiar with videos such as the NHS workers performing choreographed dances in a hospital corridor, a McDonald's employee directing a drive-thru line to an Arianna Grande song, or Trucker Tim showing his life on the road.
While entertaining and light-hearted, not all employers will be on board with employees making such content while on the clock, for a couple of reasons.
Working or shirking?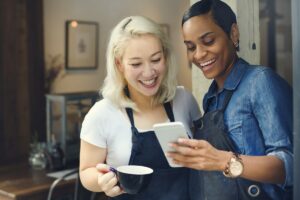 Whilst some employers may be pleased with the positive publicity that going viral can bring, it's reasonable to expect employees to devote their time and attention to their work, while at work.
To this end, employers can be proactive and refresh social media policies to cover whether they allow any content creation at or about work.
Some businesses are likely to be happy for employees to post their work on social media – especially those in catering, design or other sectors where it's important to show examples of what's being produced. Others will want strict policies to ensure that confidentiality isn't breached, and that the safety of customers or clients isn't jeopardised.
No such thing as bad publicity?
Some sectors will naturally be more social media savvy and embrace (or even rely) on content created by their employees. Those employers will still need to ensure, however, that what's published doesn't cast the business in a bad light.
Employers with PR or Communications departments may want to ensure careful oversight of what's being created so that it supports the brand values and doesn't detract from work they are doing.
Where an employee posts something casting the business in a negative light, careful consideration should be given as to whether this can be dealt with informally or if the organisation's disciplinary process should be followed.
A full investigation should be carried out prior to any formal disciplinary action, and you should make sure you're clear on whether the employee knew what they were allowed to do or not, and if they knew of the potential reputational risk.
Top tips
If you're concerned about employees making social media videos or other posts at work, make sure to:
Refresh your social media policies to cover whether content creation is allowed or prohibited at work or during work time, and set out the expectations for behaviour across social media
Provide training about your social media policies and, specifically, making employees aware of their obligations regarding confidentiality, data protection, and safeguarding (where appropriate)
Work with your PR and Communications departments (if you're encouraging the use of social media at work) to ensure everyone understands the required tone and standards
Keep aware of what's being produced – either with permission or not – so that you can step in to take action where necessary
Always follow your policies and the Acas Code of Practice on Disciplinary and Grievance Procedures when taking any disciplinary action.